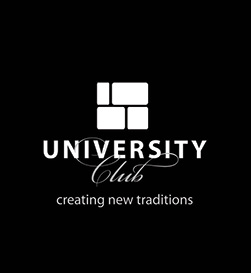 The University Club at the University of Saskatchewan is a member-owned, non-profit establishment, existing exclusively to serve the University community. Membership is open to all University Employees, Faculty, Retirees, Long-Service Employees and all University of Saskatchewan Alumni.
The University Club is the prefect place for you to escape the demands and stresses of campus life at the University of Saskatchewan. Secluded enough to afford some privacy, the Club is also within walking distancefrom most campus offices. The overall ambiance is relaxed and inviting.
The University Club's beautiful fieldstone building was constructed in 1912 as the residence of the Dean of Agriculture. It became the Faculty Club in 1961. A fire in 1972 allowed for renovation and expansion of the original structure, and the improved facility opened its doors in March, 1976.
Amenities Include:
The Dining Room
Monday to Friday the Club sets out an extensive and varied lunch buffet. You can enjoy homemade soup, salads, accompaniments and a variety of vegetarian and main course options. Or build a simple sandwich the way you like it.
In the summer, you can relax for lunch or drinks on the patio - one of the most beautiful in the city. Reservations aren't necessary, but they are encouraged.
A range of options is also available for pre-booked breakfast meetings, business luncheons in the lower level meeting rooms, or private catered receptions and dinners in the main floor dining rooms. The Lounge is available for private functions in the evenings and on the weekends.
The Board Room
Private meeting space, set up board-room style, with comfortable chairs for a maximum of 12 guests.
The Club Room
Oak wainscotting and French doors make this a bright and versatile place. The room may be set conference style, theatre style or reception style and accommodates up to 35 people.
The Red Room
Painted a deep red and decorated with contemporary furniture, this sophisticated chamber is perfect for intimate meals or elegant receptions. Maximum 14 for dinner or 25 for receptions.
Reciprocity
A letter of introduction is required for each visit to the club. Privileges are provided for full members only. Junior and Non-resident members are not eligible for reciprocal benefits between clubs.
Payment of all account charges is due prior to departure of the visiting member. All reciprocal club charges must pay with Visa, MasterCard or debit. Note the University Club at the University of Saskatchewan does not accept American Express.