The Pool is available for the use of members, members' guests and registered reciprocal club guests only - weather permitting. The pool is accessible only when a lifeguard is on duty and usage may be limited based on the number of swimmers and/or the number of lifeguards on duty. Members are to bring their membership cards for access to the pool.
July 1st through September 4th
Monday to Thursday 12:00 pm to 8:00 pm
Friday 12:00 pm to 10:00 pm
Saturday 9:00 am to 10:00 pm
Sunday 9:00 am to 8:00 pm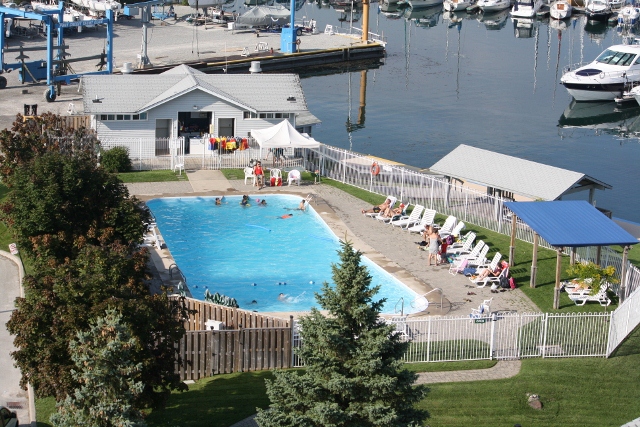 General Pool Rules
Use of the pool at any time is at the swimmer's own risk.

Everyone using the pool facilities must first register with the Lifeguard at the pool. A valid membership card or registered visitor's guest card is required for entry. Members must register their guests.

Children under thirteen must be accompanied by an adult.

Children who cannot swim must be accompanied by a parent or guardian at all times while in any of the pool areas.

Children must be toilet trained or must wear swimming diapers in order to use the pool.

Swimming is permitted only during designated hours.

Showers are required before entering the pool.

Bottles, glass objects, drinking glasses and sharp objects are not permitted in the pool area. Trash should be placed in the containers located throughout the pool area.

All swimmers must wear bona fide swimming attire. Cut-offs, dungarees, Bermuda shorts and thongs are not considered appropriate swimwear. Shoes and shirts must be worn outside the swimming pool area.

Radios, televisions and the like may be listened to if played at a sound level which is not offensive to other Members and guests.

Animals, bicycles and skateboards are not permitted in the pool area.

Lifesaving and pool cleaning equipment should be used only for the purposes intended.

Running and hazardous activity are not permitted in the pool areas. Pushing, dunking and dangerous games are prohibited.

Equipment, other than a mask and snorkel are not to be used in the pool areas except as part of organized course of instruction.

Swimming parties must be arranged in advance through the lifeguards.

All persons using pool furniture are required to cover the furniture with a towel when using suntan oils and lotions.

All persons using the pool area are urged to cooperate in keeping the area clean by properly disposing of towels, cans, etc. Smoking is not permitted in the pool area or within 20 metres of the pool.

Flotation devices are permitted for non-swimming children up to five years of age. Tire inner tubes are not permitted. Noodles are permitted. Small toys may be permitted depending on the number of people in the pool

Persons who leave the pool area for over fifteen minutes must relinquish lounges and chairs by removing all towels and personal belongings. Saving chairs for persons absent from the pool area is not permitted.